Donate by mail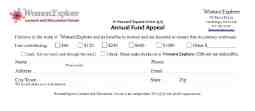 Print* and complete the form above, and mail it with your check, payable to WomenExplore, to: WE, P.O. Box 380333, Cambridge MA 02238.
Donate Online
You can now make secure donations online with a credit or debit card, or a PayPal account.
After clicking the donate button enter the amount you wish to donate in the form that appears and then either sign in to PayPal, if you are using a PayPal account, or else click on the continue link in the bottom left and complete your card details.
Donate in person
Bring your check or cash contribution to WomenExplore on Thursdays, 10:00am – 3:00pm during the spring or fall series, at the Democracy Center, 45 Mt Auburn St, Cambridge, MA.
Launched as Theological Opportunities Program at Harvard Divinity School in 1973, WomenExplore became an independent 501(c)(3) non-profit organization in 2003. Your donation is tax-deductible to the extent of the law.
Annual Fund
We invite you to give generously and encourage your friends and relatives to join you in supporting WE.
If you have attended any WomenExplore/Theological Opportunities Program sessions, you know what a wonderful community exists to support women of all walks wherever they find themselves intellectually, emotionally, and spiritually. We ask you to support WomenExplore in its mission to provide this stimulating yet safe environment for women to examine new perspectives and find their voices. Many women have found the inspiration and courage to make significant changes in their lives and careers, and in some cases, significantly in the lives of others, from the knowledge and support they discovered in this collective. In addition to its provocative lecture and discussion forum, WE also hosts weekly Caring and Sharing support and monthly Conversations groups for women.
Our speakers generously donate their time and expertise, and a dedicated cadre of volunteers donates services to WE operations. Ideally the Annual Fund makes up the difference between operational and rental costs, and the Forum receipts. Your contribution can help WomenExplore proudly carry on its tradition of making a difference in the lives of women.