Executive Directors and Resident Scholars
Resident Scholars
Past Executive Directors
Elizabeth Dodson Gray,
Coordinator Emerita and first Executive Director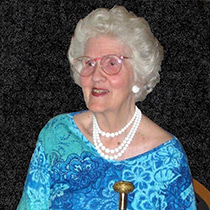 Elizabeth Dodson Gray created WomenExplore/TOP as we know it and served as TOP's coordinator for thirty-two years, from Fall 1978 to the end of Spring 2010. She attended TOP/WE since its beginning in 1973. She also became TOP's first executive director when it became an independent non-profit in 2003. She was responsible for forming TOP/WE into what it is today—a strongly feminist organization which uses the feminist process of sharing our lives and issues, and looking there for concerns from which to design future WE conference series. This unique method of designing the series is what makes WE so special. In addition she introduced the focus talk in which a member of the advisory committee describes how that week's topic has impacted her life, for good or ill.
Elizabeth Dodson Gray was instrumental in setting into motion the change of name from Theological Opportunities Program to WomenExplore Lecture and Discussion Forum in order to better describe the organization.
Elizabeth Dodson Gray is an eco-feminist theologian with a graduate professional degree from Yale Divinity School.
For the twenty years from 1975 to 1995 she was away two or three times a month lecturing in the U.S. and in Canada on campuses, at regional and national conferences, and in church-related settings.
Her lecturing was an outgrowth of work she and her husband David did as members of Carrol Wilson's team at MIT's Sloan School of Management for a multi-year seminar on "Critical Choices for the Future," an anticipation of today's energy concerns and global climate issues. In 1973 they prepared with another MIT colleague the staff work for ten days of Congressional hearings in the 93rd Congress.
She is the author of four books: Green Paradise Lost, a classic eco-feminist text, Patriarchy as a Conceptual Trap, Sunday School Manifesto: In the Image of Her?, and her memoir released in 2013, Walking My Yellow Brick Road. In 1988 she edited Sacred Dimensions of Women's Experience. This book was based upon the 1985 Fall TOP series. It is by 31 women, writing autobiographically, and is about the religious dimensions of those portions of the total human experience which males never experience—and therefore have never named as sacred (for example, women bringing life in childbirth).
In 2000, Elizabeth Dodson Gray received Yale University's Distinguished Alumni Award, and in 2010 Elizabeth and David Dodson Gray were presented with the Donella Meadows Award by the Club of Rome (USA). This coveted award is given to a highly outstanding individual (or individuals) who created actions in a global framework toward the sustainability goals Donella Meadows, lead author of the influential book The Limits to Growth, expressed in her writings.
Elizabeth Dodson Gray passed away in her sleep on January 7th 2022 at the age of 92. A memorial service for her will be held at 3.00 pm on 18th Jun 2022 at the First Baptist Church of Newton. Her obituary in the Boston Globe is here.