Join in!
Join in the collective and begin this path of your journey. You will encounter many fascinating women with inspiring stories and encouragement to share. Subscribe to the WomenExplore Series of 10 sessions for $130. Individual sessions are $15 (pay more if you can, or less if you need to) or $5 for students (with valid full-time student ID). Bring a friend!
In person
You can enroll in person on Thursdays at the forum at the Democracy Center, 45 Mt Auburn St, Cambridge MA 02138. Click Location for directions.
Registration opens at 11:00am. The forum begins at 11.30am.
See the current program.
By mail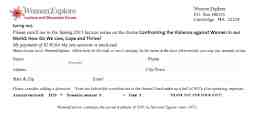 Print* and complete form above, and mail it with your check for $130 (payable to WomenExplore) to WomenExplore, P.O. Box 380333, Cambridge MA 02238.
Online
You can now subscribe securely online through a PayPal account, or with your debit or credit card as a PayPal guest.
Online enrollment for the ten session series costs $135, which includes a $5 handling fee.
To complete your enrollment in the series you must bring to the registration desk before the first session you attend:
a printout of the receipt received by email, including the receipt number
a completed online enrollment form for each series subscriber. (Download the form here, print it out and fill it in — extra forms available at the registration desk.)